TV out on Nvidia displaying in black and white with scart & S-VHS
I've been scratching my head for a while on this issue but I finally found a fix ! I tried about anything, knowing it used to work a while ago (like 2 years from now with older drivers).
My Nvidia Geforce 2 MX 440 was displaying a black and white output when using a S-VHS (or S-video) cable plugged into my scart TV
My drivers : ForceWare Release 80 Version: 81.98 Release Date: December 21, 2005 WHQL Certified
OS : Windows XP SP2

The scart plug
Connectors from the S-VHS cable
The $10 fix : get a coax cable, it'll work on coax…
The $0 fix :
Set the video card to display using "clone mode"
Set the TV as the main display
Then right click the TV icon and go to advanced settings for the TV format :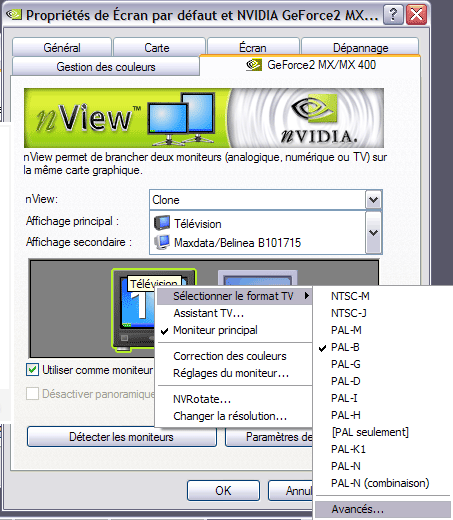 Set the output as composite even though you actually use S-VHS :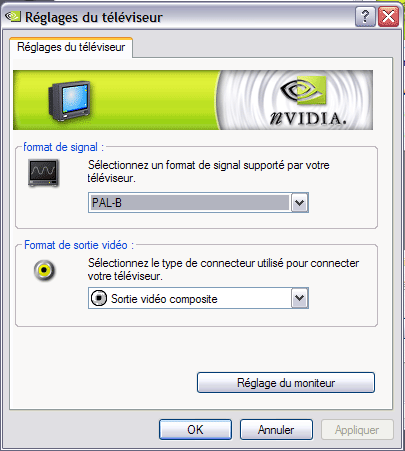 It should work now !
Edit Feb. 6, 2006 : the $0 trick no longer work with my new GeForce 6200 due to some different drivers implementation :( The $1 trick available at [http://camp0s.altervista.org/sVideo/sVideo.htm](http://camp0s.altervista.org/sVideo/sVideo.htm) worked great for me ! :D :D :D Give it a go if the software/drivers trick does not work for you
Edit Sep. 8, 2007 : new link for the $1 trick http://www.camp0s.com/pc_related/svideo/svideo.php